Handling cable drums (cable coiled on large steel drums) is a major component of logistics and work to lay cables throughout the world. The cable drums come in varying sizes, and transporting larger cable drums has historically been handled by a combination of mobile cranes, forklifts and low-build trailers. The trailers have a low structure to accommodate the height of the load and to cope with the relevant national height requirements. The loading and unloading site has a mobile crane in place to take care of loading and unloading operations, and the cable is then pulled out. A lot of planning is involved and loading and unloading the cable drums can take a lot of time and money. This is why Hammar developed a new, world-unique cable drum handling solution; a self-loading cable drum trailer.
In 2011 came the first enquiry about building a sideloader for handling cable drums, a solution that would allow both transporting and lifting the cable drums with the same vehicle. The project was being delivered by NCC, the second largest construction company in the Nordic region and a total of three Sideloaders were ordered. After 2 years of discussions, development and testing, the first "Hammar drum loader" was complete. The result was a world-unique solution for handling cable drums.

Instead of installing sideloader cranes on a traditional low-build trailer Hammar built a trailer specifically designed for carrying cable drums. A U-shaped trailer bed was developed, providing greater stability and strength in the chassis, as well as maintaining the low height level required. The cranes installed were Hammar 155 cranes with so-called Step Over support legs, to ensure maximum stability and the lowest possible ground pressure.

NCC's project involved handling 27-tonne (59 500 lb) cable drums with a diameter of 4.2 metres. A total of three sideloaders were ordered. The reason for choosing a brand new cable drum handling solution was to increase flexibility and save time and money.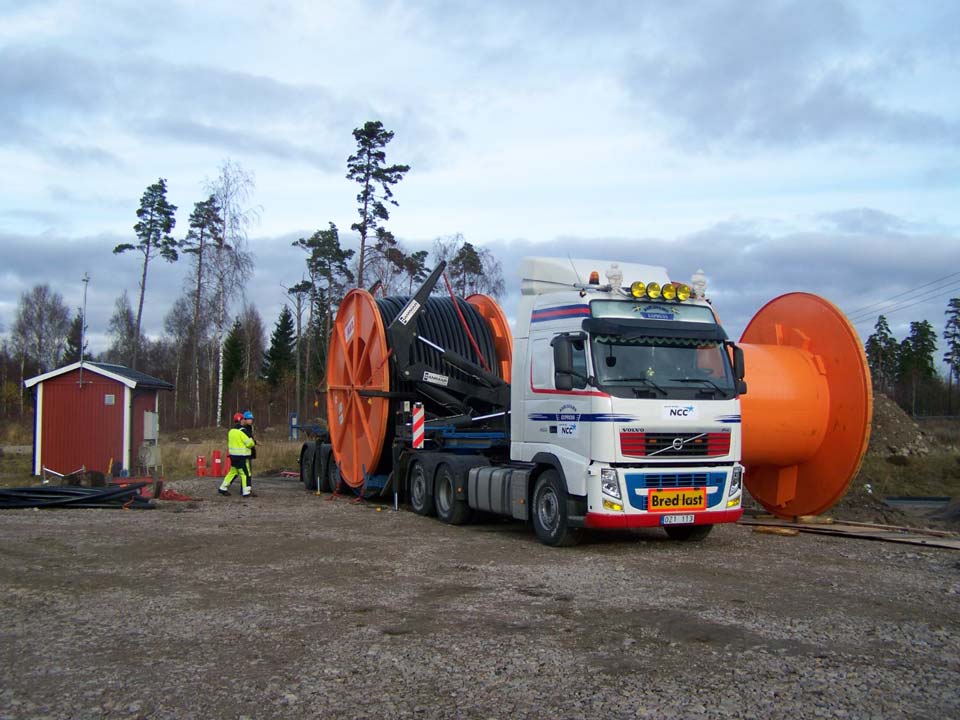 "The biggest advantage with the sideloaders was naturally that you didn't need a forklift or mobile crane when loading/unloading," says Kjell Olofsson, who was in charge of the project at NCC. "Previously, when using a mobile crane, loading/unloading took at least 1 hour every time. And depending on the actual unloading site it could take significantly longer. In addition, you also had the process of the mobile crane being driven to and from the site," he continues.

All transport and lifting operations are now taken care of by a single driver and vehicle instead. The time spent preparing for lifting operations has decreased from one hour to just a few minutes. All this has allowed a more reliable and exact timetable to be developed, while streamlining the entire process and making it more versatile in the event of alterations.

"It was never a case of a trailer standing waiting for another trailer, or a trailer standing waiting for the mobile crane," says Kjell.

Concept exported

The UK was the next country to take advantage of the new concept. Prysmian Group, one of the world's largest cable manufacturers, had been commissioned to handle cable drums to connect up a new offshore wind farm to the national power grid in the UK. Earlier projects involved cable drums equipped with container locks to enable handling by sideloaders without additional equipment. However, there were no container locks used in this project, and the cable drums were wider and weighed 32 tonnes (70 500 lb). In order to deal with handling these new cable drums, Hammar developed and built another unique solution, a hydraulic lifting spreader which enabled the cable drums to be lifted using their central shaft. An additional request for the project was the ability to handle 20-foot containers in order to transport all equipment more easily to the work sites, which Hammar resolved by making the cranes slide on the chassis and mounting container twist locks on the crane base.




The transport and lifting for Prysmian Group's project was managed by transport specialist H.C. Wilson Transport Ltd. Chris Rowlands, transport manager, explains that there are numerous benefits to the new handling solution.

"The biggest advantages are that we are self-contained in the loading and unloading of the drums, we don't have to wait for a third party to complete any lifting and the associated problems this can bring; the crane being delayed on previous jobs, the crane drivers having to be site inducted, the additional space that a large mobile crane takes up with its outriggers set out, etc," says Chris.

There are many risks with mobile cranes. In addition to the time it takes, the space required and greater demands on the terrain due to ground pressure, the weather can also cause problems.

"Due to the low working height of the Hammar cranes, they are not affected by high winds and can therefore be used during inclement weather, unlike mobile cranes," explains Chris.

Since the transport distances are relatively short, it would have been necessary to hire four heavy mobile cranes to achieve the same efficiency as two drum loaders from Hammar.

"Overall the two sideloaders save on hire of four mobile cranes, which over the length of this project would be extremely expensive. They save a lot of time and planning, making the project far more efficient and cost effective," says Chris.

Instead of four mobile cranes and two low-build trailers for the project, they have just two sideloaders. This also means reduced emissions and less impact on the local community.

NCC project in short
NCC's assignment comprised transport, pulling out and laying of 4 parallel DC power cables transporting 2 x 720 MW at a voltage of 300 kV. A total of approximately 564 cable drums were transported and installed over a period of two years along a route extending 190 km. The transport dimensions of Hammar's sideloaders were optimised for the width and height limits of the roads. The sideloaders from Hammar were an essential element of the project in order to streamline and improve the logistics chain and enable the project to be completed in 2 years.

Prysmian UK project in short
Prysmian UK has successfully completed supply and installation of cable totalling 114 drums of 220 kV cable along the entire challenging 37 km route of land connection for the East Anglia One offshore windfarm project. Prysmian's solution required 2 km lengths on each drum and they selected Hammar trailers to provide significant operational savings and benefits over a traditional contract lift crane method. The Hammar trailer was key to reducing the requirement for abnormal load permissions and with adjustable suspension it can get closer to the point of installation and transport containers too. Prysmian continues to grow the supply and installation of high voltage cables and the trailers will form an important part of that future.




Continuous development
Development of the Hammar drum loader is continuing. This includes further improvements to the versatility and the handling area. The latest development of the drum loader makes it possible to handle different sizes of cable drum, and there are plans to increase the lifting capacity up to 42 tonnes (92 500 lb). Together with the significant existing benefits of the Hammar drum loader, the future is looking bright.