22 Sep - 20
TEST: Fuel savings with lighter Sideloaders
Hammar has, together with Martin Andreasson Transport AB in Gothenburg, performed a live test on how much fuel can be saved with Sideloaders with lower tare weights. The findings point to significant gains both in terms of fuel economy and environmental impact.

The test was performed by comparing the fuel consumption of the latest model from Hammar, the Hammar 110, with its closest predecessor – the Hammar 155. The Hammar 110 used in the test had a tare weight of 8220 kg and the Hammar 155 had a tare weight of 10530 kg; a net difference of 2310 kg. The trailers were pulled by the same Truck, a Mercedes Actros 2746, by the same driver along the same route. The route is about 330-380 km per day, mostly city driving, picking up and leaving containers in the Port of Gothenburg. The test was performed over several weeks and then the average fuel consumption was compared between the two different Sideloaders.

The results show a minimum saving of 1,2 l diesel per 100km, a saving of about 3% compared with the heavier Sideloader. Using the route in the test, this would result in saving around 1000 litres of diesel each year!

Martin Andreasson, owner of Martin Andreasson Transport, is very pleased with the result. "We think a lot about how we can improve for the enviroment here at Martin Andreasson Transport. We are for example trying out other fuels for our trucks to reduce the Co2 impact, and now we have more options from Hammar to consider".
Martin believes there are more savings you can gain: "I'm very sure you could save even more fuel if you have longer transport routes outside the city and you also save wear on many other parts such as the brakes, tyres etc."
In many situations you could also increase the payload the Sideloader can carry, which makes the overall transport more efficient. This is particularly true in countries with more restricted GCM (Gross combination mass) compared to Sweden.

The Hammar 110 model is not the only way to save weight on Hammar Sideloaders. Several light weight options for the Hammar model programme have recently been released, saving about 0,5-2 tonnes tare weight on each model. Further savings can be done by choosing the Hammar 160 model, the lightest full-sized model with a tare weight starting at 7.2 tonnes.


Photo: The Hammar 110 in the test and its driver, Niko Paulamäki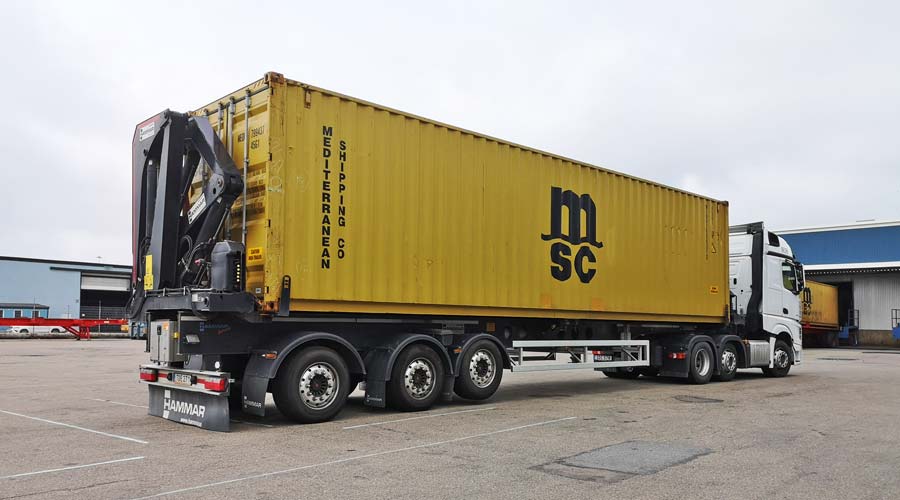 Back to all news