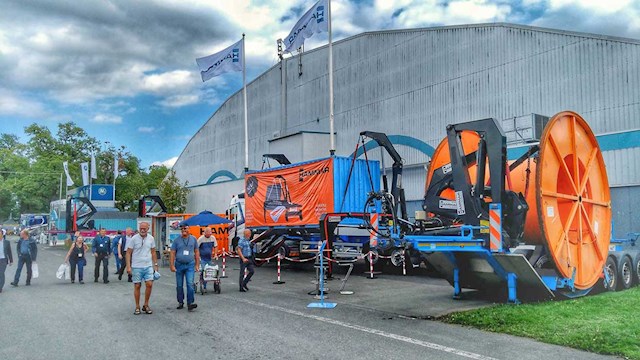 02 Sep - 18
Hammar at Elmia Lastbil 2018
During 22-25th August Hammar attended Elmia Lastbil 2018, the largest transport and haulage exhibition in Sweden. This made it our 16th consecutive year attending and the event was a great success.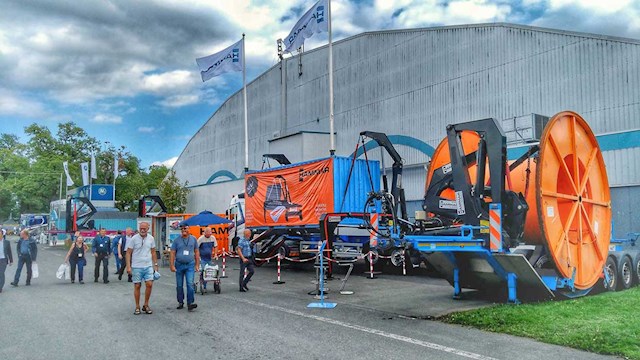 Our booth was expanded to twice it's previous years size, and featured a total of 3 different Sideloaders. The big news was the HAMMAR 110, making it's Swedish premiere show. We believe Sweden, traditionally a big market for the 160 model, will see the HAMMAR 110 as an excellent option if you transfer many containers. The 110's Sledge Mode works very similarly to the 160, and the StepOver mode makes it superior at transfering from/to other chassis.
The event also featured the HAMMAR 155 drumloader with a 4m towering cable drum loaded. A recent and unique invention, it has the potential to speed up and lower the costs of large cable installation projects or similar significantly.
The third machine, the 160 C ULTRA LIGHT was featured for it's superior tare weight. While not as light as the 160 S we showed in 2016 (6990 kgs tare weight!) this one was more advanced and shows that even the more advanced chassi models can be made significantly lighter. With it's telescopic chassis it can legally transport 20′-45′ containers within all of Europe.

Special thanks to Berndt Mattson Åkeri, SR Transport and NCC Construction for allowing us to feature their Sideloaders.

Great to see and meet everyone coming by our stand. We look forward to attend the next event in 2020!
Back to all news