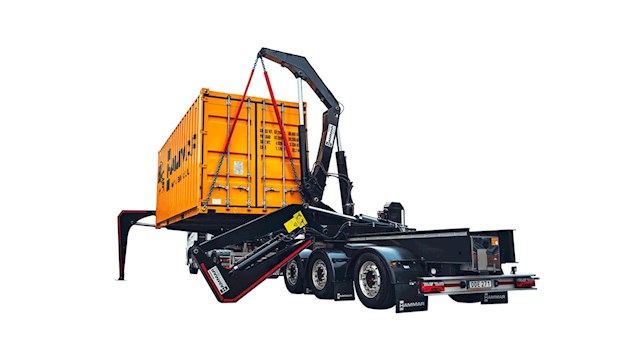 09 Mar - 17
Introducing the Hammar 110
During THE Expo 2017, 2-4th March in New Zealand, the new HAMMAR 110 was unveiled for the world for the first time. The HAMMAR 110 is our latest, heavy duty sideloader model and comes with three new main features: The double-action support leg, a significantly lower tare weight and a newly designed crane.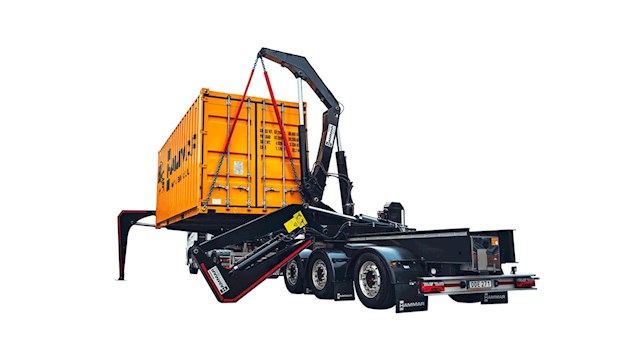 The double-action support leg features two modes. The "StepOver" mode and the "Sledgeleg" mode. The StepOver mode is based on the HAMMAR 155, where the leg extends outwards 3,2 meters (10' 6'') in a "step over" motion, often to be placed on the opposite side of a chassis/wagon. This gives very high stability and fast, safe and easy transfering from/to a chassis or wagon. The patented SledgeLeg mode is when the leg is folded, giving a shorter reach of 2,0 m (6' 7''), which is great when space is limited. As the leg doesn't need to unfold and because of a simplified design using a single cylinder, it's also very fast. Twice as fast comparing to the StepOver mode.
With our latest technology the tare weight of the HAMMAR 110 with 3 axles and standard equipment is as low as 8,3 tonnes (18.300 lbs), which is 2 tonnes (4.400 lbs) less than the HAMMAR 155! This means a significantly higher payload, and less tyre wear and less fuel consumption as a bonus. Even with 2 tonnes shaved off comparing to the 155 model, the HAMMAR 110 is still extremely strong, featuring 36 tonnes Safe Work Load and has been tested up to 45 tonnes.
The new crane design allows a significantly larger handling area; the largest of all our models. The 110 crane also gives a faster handling time, is easier to use and has increased safety. With the simplified design it's also easier to serve and requires less spare parts.

Lastly the 110 always comes with our Safety + system, as well as our weight indication system.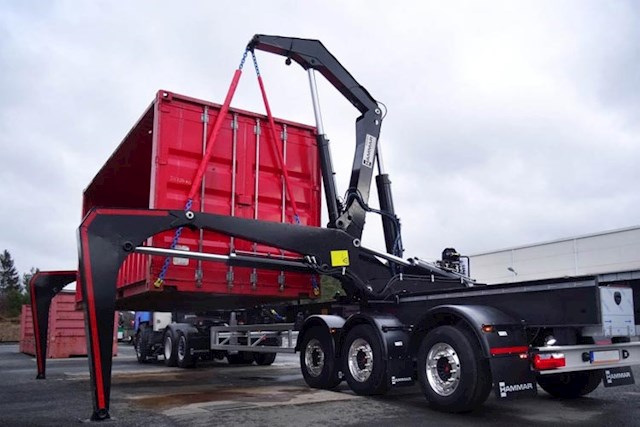 Features summarized

+ 36 tonnes (79.000 lbs) Safe Work Load
+ DoubleAction system – great stability and great transfering or great speed and less space required
+ Significantly lower tare weight, 2 tonnes less than the 155!
+ Largest handling area of all our models
+ Fast handling time
+ Easier to use, no handling subsections
+ Increased safety
+ Simplified design: easier to serve and requires less spare parts
+ Hammar Safety+ system
+ Weight indication system


Read more about Hammar 110
Back to all news