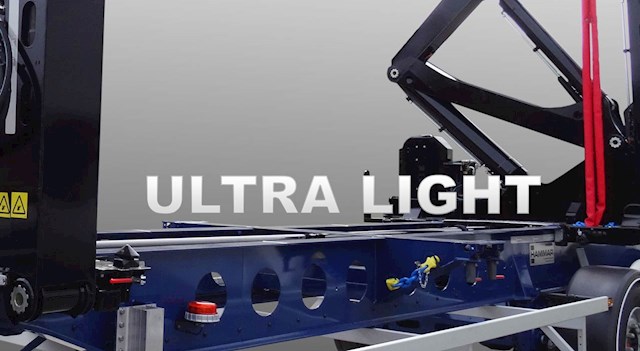 27 Feb - 17
In development – Hammar Ultra Light
Tare weight is becoming increasingly important on the Sideloader market. While most of the Hammar Sideloader models already are the lightest in the industry, we always strive to do better. Because of this, we have for some time been developing "HAMMAR Ultra Light", which is a major optimization of weight savings on our Sideloaders. In more specific terms, depending on model and equipment, HAMMAR Ultra Light means a weight reduction of 0,5-1,5 tonnes (1100-3300 lbs) comparing to current design!

HAMMAR Ultra Light is just that, lesser weight. You will still have the same SWL (Safe Work Load), stability, strenght and speed. All HAMMAR lifts are still going through the same rigorous testing as the non Ultra Light models. At the moment, we are in a testing phase, where we have several units on field test.

The HAMMAR 160 S, the 195 S and the truckmounted 183 B, is currently out in the field. Different customers in different environment has been selected to make sure the quality is up to our standard and built to last. Our basic heavy duty model, the 160 S, with 36 tonnes (79 300 lbs) SWL and 20′-40′ handling capabilities, managed to achieve a stunningly low tare weight off 6990 kgs (15400 lbs) ! This makes it, by far, the lightest heavy duty Sideloader in the industry.

The weight reduction will result in a number of advantages for our customers; significantly higher payload being the most wanted. Less fuel consumption and less tyre wear will also yield cost savings, as well as being more enviromental friendly as a bonus. Once tested and approved, the Ultra Light HAMMAR lifts will be available for all our customers on a wide range of models.