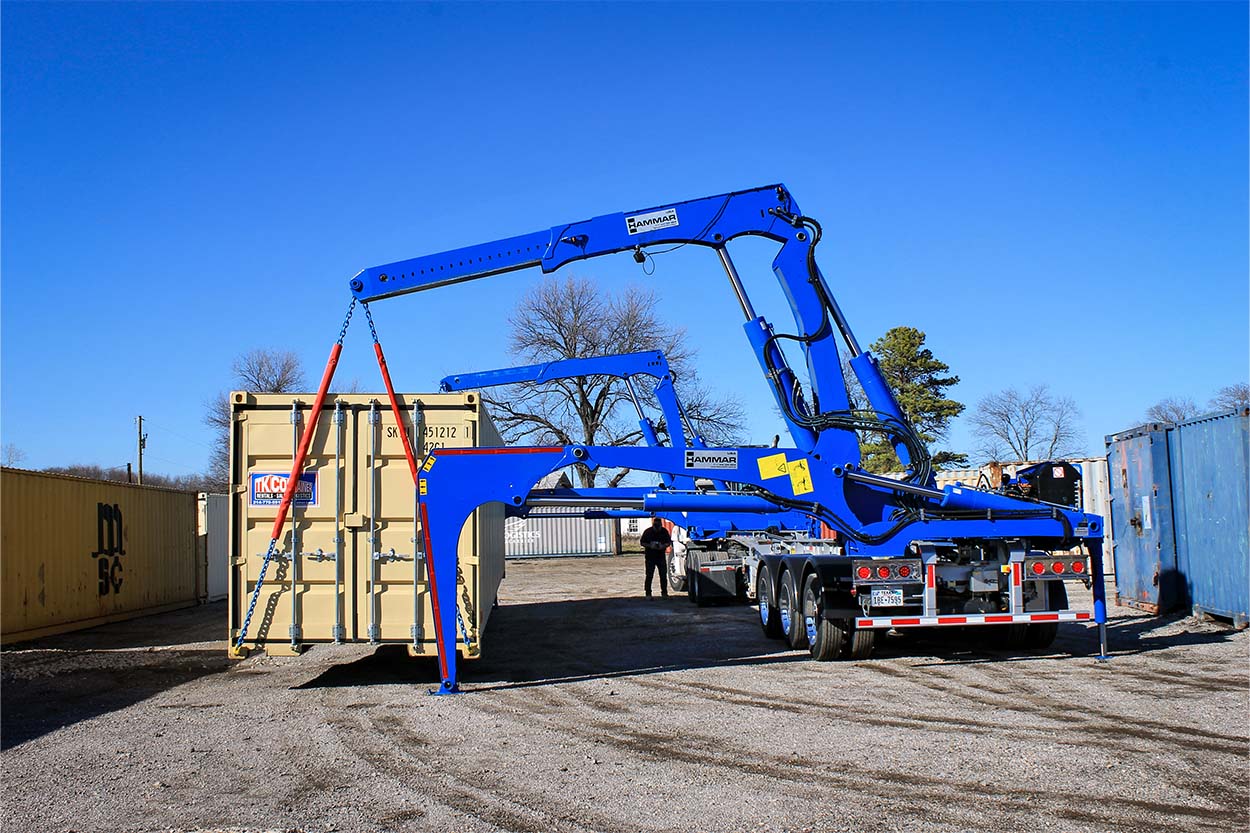 14 mar. - 23
First Hammar 110 delivered to the US
Seattle Container Transportation Inc. (SCT) has received the first Hammar 110 model in the United States. This high-end Sideloader is equipped with 79,300 lbs (36 tonnes) lifting capacity, a telescopic 20'-48' capacity chassis and the latest innovation from Hammar, the Hammar MegaReach 2.0 crane extensions. The MegaReach extensions provides SCT with the unique Sideloader capability to lift up to 33,000 lbs (15 tonnes) at 19,6 ft (6 m) and stack a container weighing up to 37,500 lbs (17 tonnes) two rows deep. The new Sideloader will maximize SCT's container handling capabilities, allowing them to better serve their customers and improve operational efficiency.

"Here at Seattle Container Transportation we are very excited to have the newest and greatest equipment to help our customers with their needs that others aren't capable of doing. We are very happy to introduce the Hammar 110 MegaReach Side loader to our fleet," said Jessica Gravelle, owner at SCT. "We are proud to be the first company in the United States to use this unique technology".

Seattle Container Transportation Inc. invested in their first Sideloader in 2019, and since then, it has proven to be a valuable asset to their fleet. The Hammar has been a great problem-solver, always in popular demand from customers, with several weeks of planned work ahead and providing a stable income stream for the company.

"Having the Hammar has helped us keep the business open during the pandemic and also helped move customers to their new locations where they felt comfortable during a difficult time", Jessica explains.

One of the main reasons for the Sideloader's popularity is its ability to handle operations that would have otherwise required a more costly combination of a heavy crane, a truck and a chassis. With the new capabilities of the recently bought Hammar, SCT expects to be able to handle an even wider range of these operations.

"With the new Side loader, we can provide greater flexibility, safety, and speed in our operations along with saving our customers costs on unnecessary equipment to get their tasks completed" said Jessica.

The Hammar team is thrilled to have delivered its first Hammar 110 MegaReach unit to SCT and the US. "We look forward to providing continued support and service to SCT and their Sideloader fleet." said David Gustafsson, Vice President at Hammarlift Inc. "The 110 model, combined with the new MegaReach technology, appears to have great potential in the expanding US Sideloader market, with several more units set to be delivered during 2023 to various customers across the US".